Real Time GPS Tracker for Car: GPS Vehicle Tracking Systems Devices For Cars
Trying to find an after-market GPS vehicle tracking system for your car or small fleet? There certainly are a lot of them. Just google for gps vehicle tracking system and see what you get. This article will try and help you through the morass of options. Hope it helps.
The overwhelming majority of products that you will see advertised come from fleet management companies. Fleet management was one of the first successful implementations of GPS tracking.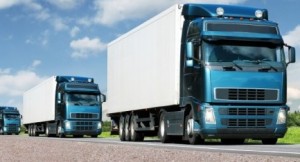 Fleet owners needed to know where their vehicles were and how they were being operated. Companies built systems to do this. All of them were PC based. Typically you had to download a program and run it on Windows to display the data. Some had on-site servers that you logged in to from the Internet to get your data. The data was normally transferred by cellular modems. Those days are mostly over. Now, fleet management companies typically use cloud based systems which means they run on an off-site server, that is hosted by professional company that is in the business of running and renting servers. Some still have on-site servers, but the economics just don't work. These companies will normally have to charge more. The data is almost always delivered from the vehicle to the server with a cellular modem that connects to the Internet. A small percentage of more expensive units may use satellite communications such as ORBCOMM, Iridium, or Inmarsat.
The hardware that is in the car varies, but the overwhelming majority of devices fall into one of three categories: (1) OBDII device; (2)Wired-in device; or (3)Battery powered device. An OBDII (On-Board Diagnostics 2) device connects to the vehicle's computer system via a connector that is normally near the steering wheel. This is where technicians hook-up to monitor engine fault codes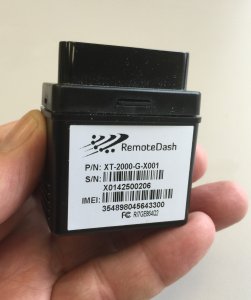 and other things. The OBDII connector is present on almost all vehicles built after 1995. This kind of hardware is good for a couple reasons: (1) There is no professional installation required and (2) you can move the device from vehicle to vehicle. There are some drawbacks, however, depending mostly on where the connector is located. The device location is normally not stealthy, meaning if you are looking to install the device without anybody knowing about it, an OBDII solution is normally not the way to go. Secondly, in some vehicle locations, the device may protrude enough such that it gets in the way and can be easily kicked out or damaged. The OBDII connector location varies from vehicle to vehicle, so take a look at the location in your vehicle before deciding on the OBDII device.
The wired-in device will have 3 or more wires that must be connected to the vehicle's electrical system. If it's 3 wires, then the wires will normally attach to the vehicle's battery power, ground, and ignition. These solutions are really quite easy to install. The fuse panel will normally have an available connection for each of these 3 signals, so there is no cutting and stripping of wires required. If you don't want to mess with the wiring, any car stereo outlet can easily install it, normally for around $50 to $60. The wired-in device has some advantages. Number 1, it can be made stealthy. Someone would have to physically look for the GPS device in order to find it. Number 2, it will always be out of the way, which means its less likely to be damaged and/or stolen.
The third type are the battery powered solutions. These solutions run off internal batteries and do not require connection to anything on the vehicle. The drawback is that the devices will have limited life. A device that is transmitting every minute or so when the car is moving will typically only last a week or two before the battery needs to be recharged or replaced. In general, battery powered solutions are only good when you need to track something for a short amount of time. If you need a permanent solution, it's not the way to go.
What about the services the GPS tracking solutions offer? Almost all of the good ones will offer the following basic services: (1) Real-time mapping with device transmissions of less than a minute when the vehicle is moving; (2) Mobile phone alerts for speeding and other exceptions; (3) Geofencing alarms; (4)Driver Behavior Reports. You may not need real-time data (less than a minute latency when moving) but you can get it even with the lowest-cost systems so you should go ahead and get it. Alerts are also standard, so make sure you get those even if you don't need them, you might change your mind later. Alerts are good for exception reporting in real-time, so you don't have to login and look at the data. The data just comes to your mobile phone or email when you need it. Almost everybody has geofencing, it really is not a differentiator in systems. Driver behavior reports are also fairly standard, but they will differ in how they are implemented. Some companies will require you to login in to see the report and the maps associated with it. Others, like RemoteDash, don't require you to login to see the data, it comes directly to you.
All the systems can vary in price, but they almost always will have a subscription associated with them. Pay special attention to the subscription term. Systems that advertise OBDII devices less than $50 will almost always require some sort of minimum contract, typically a year or more. Monthly payments vary from about $14 to $30 depending on the term. Wired devices will normally have the same pricing and terms as the OBDII devices.
Some systems will advertise their mobile phone applications that can be downloaded on Google Play or Itunes. Be real careful here. In almost all cases these applications will have greatly reduced functionality. The application may only show the latest location of the device on a map, nothing more. Many of the fleet management companies have put these out to give the perception that there app is mobile. In reality, the application is PC-based, and they have put together an inexpensive app with greatly reduced functionality to give the appearance that the data can be viewed on a mobile phone. These old PC-based fleet management systems can only be viewed on a PC. That is what they were designed to do. If you want full functionality, look for platforms like RemoteDash's that allow you to view their cloud application on any platform: PC's, tablets, mobile phones, etc. These newer platforms use what is referred to as responsive software that reformats the data depending on the type of device you are using to view the data. In this way, you always get full functionality independent of the type of device you are viewing it on.
There are a number of other features that RemoteDash and maybe some others offer that go beyond the basic cloud services. RemoteDash has a mileage documentation app that allows you to enter your vehicle tax miles as they occur or on a daily or as required basis. Almost all the systems will offer some sort of playback feature that allows you to easily view past drives and historic data. RemoteDash provides daily, weekly, and annual statistics, many other systems will provide similar statistics. RemoteDash is the only system we are aware of that provides photo geotagging, which is a way of placing photos on the RemoteDash maps based on where the photos were taken. Engine fault codes and the engine light status should be available on most systems that connect to the OBDII. Some systems like RemoteDash's offer VIN detection and vehicle information based on the VIN.
We hoped this helped a little bit. If you have any questions about the RemoteDash tracking system or tracking and monitoring in general, give us a call at 800-934-6771 or email us at support@remotedash.com. Good luck finding a system that meets your needs.