Mileage Tracker Device – Mileage Docmentation for Taxes
RemoteDash, the most accurate and automatic mileage tracker, gives you total peace of mind as your mileage log is automatically created for you. Our 100% GPS-accurate mileage logs generate the biggest mileage deductions with better audit protection than any app.
Did you know you can save big time on your taxes if you are driving your vehicle around for business?  The IRS mileage rates for 2015 are $0.575 per business mile, $0.23 per medical mile,
and $0.14 for each charity mile. This can easily add up to thousands of dollars in deductions. The only catch is you need to document your miles. Motley Fool put together a good summary of the documentation requirements which you can find here.  If you have a RemoteDash GPS device in your vehicle, the documentation becomes near trivial.  This post talks about how RemoteDash helps you save money on your taxes through mileage documentation.
The RemoteDash GPS system provides lots of services: alarms and alerts to your mobile phone and email, real-time playback, engine light reporting, daily and weekly performance reports, daily driver behavior reports and more. Mileage documentation for tax purposes is another one of the services. Your mileage is recorded automatically to the RemoteDash database.  You can see exactly when your trips started and ended and how many miles you went.  The only thing you need to do is annotate whether the trip  was tax deductible. Our system offers 3 different ways to do this: (1) Directly through the database; (2) Via the daily email reports, and (3)Via automated text messaging after every trip.  When it's tax time all you need to do is download the data to a spreadsheet.  We save the mileage data forever in our system as well.
You can  use one or all 3 of the methods for annotating your tax data.  The most proactive method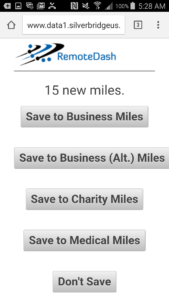 is with our automated text messaging system.  After every trip you take, our system sends a text to you with the miles driven on that trip.  You simply tap the link on the text to record the miles and their category either business, charity, or medical.  If this method is too busy for you, you can disable the automated text messaging and use our daily email reports to annotate your data.
 Every morning we send an optional email to you with driver behavior, vehicle performance, and vehicle tracks results.  This email also includes an entry form to enter your mileage data and tax category.  Simply make your daily notes and save the data to the RemoteDash database with a click of a button. No login is required and the entry can be made on any device that connects to the Internet and can receive your emails.
The last method is for the procrastinators out there, or maybe for those of us that prefer to do everything at one time.  You can go into our database any time you want and enter data directly. We have the summary of the mileage driven every day with a mapped recording of the trips you took.  This also helps if you happen to miss a trip  with one of the other methods.
We save your mileage data forever so that is really all you have to do. If you want a backup, or want to give the data to your accountant, simply click a button in our tax application and it will download the annual data to a spreadsheet.  You can play with our tax systems at demo.remotedash.com .  Go to the "Taxes" menu on the top and take a look at the data for one of our demo vehicles.  Click around, download data, do what you need to see that our systems can help you save money and time at tax time.
Happy Monitoring!