Teenage Driver Monitoring Devices
Are you looking for a GPS tracking device you install in your car to monitor your teen? There are tons of companies trying to sell them to you. To cut to the  chase, about 95 % of them are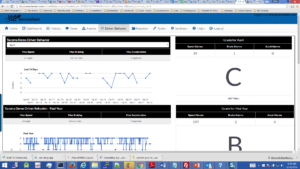 offering pretty much the same thing: a cellular GPS device that connects to the OBDII connector in your car. The other 5 % are doing niche things like maybe storing data until you get near Wifi, using a Bluetooth device that connects to the teen's phone, that sort of thing.  That service will be limited compared to the OBDII. This post talks about the OBDII tracking systems.
So, do the companies selling the teen monitoring tracking system produce the OBDII device? No, they do not.  The company providing the service has an OBDII device supplier. There are only a few of them that legally supply the United States. The devices are required to be FCC certified and authorized to run on a cellular network like AT&T, Verizon, Sprint, or T-mobile for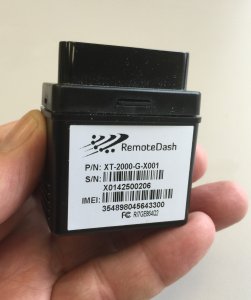 operation in the U.S. Many of the ones you will find, especially on the on-line marketplaces like Ebay and Amazon, will not be.  Ask the service provider if the device is 2G or 3G.  2G devices still run on some networks in the U.S. but they will phase out well before the 3G devices.   You should ask if you are getting 2G or 3G, and then ask what cellular network it is running on. If it is a 2G device running on any network other than T-mobile, then there is an issue.  So lets summarize, ask the teen service provider the following questions:
Is the OBDII device they provide FCC and network certified? The answer needs to be "Yes".
Ask for the FCC number. It is required to be printed on the device so they should have it.
Ask which cellular network the device runs on.
Will the device be 2G or 3G? If its a 2G device, make sure its running on T-mobile.
The main way the service providers differentiate themselves is with their marketing. Some are big and have lots of money to spend on Internet advertising and getting front page Google rank.  The others are more grassroots, like RemoteDash, and have focused on providing more capabilities in their services. Whichever way you go, the service provider will need to meet the following basics for teen driver monitoring:
Daily reports cards should be emailed to you.
Alerts can be sent to  your email and mobile phone for boundary (geofence) entries and exits and speeding.
Real-time location data should be available when the vehicle is moving. RemoteDash devices transmit about every 30 seconds when the vehicle is moving.
The system should be able to monitor for speed, location, accelerations, and braking.
The system will save the vehicle track history.
Most every service provider should be able to meet these minimal requirements.  Those that focus on technology and service will be able to do more.  As an example, RemoteDash provides engine light status and fault codes, historic playback, annual, weekly and daily statistics, optional ignition on and off alerts, mileage documentation for tax and other purposes, and more.  The best way to see what we do is to go to demo.remotedash.com.  It's a public site that shows monitoring of one of our demo vehicles. Other providers should be able to show you what you get before you buy as well.
Some providers will offer a phone app.  This is more marketing than a service. They do this because their service does not display well on platforms other than a PC.  RemoteDash has written modern, responsive web software that runs on any Internet device that can run a browser. There is no need to load and run a phone app.
One final thing. Pricing.  You will see all sorts of offerings for the initial cost of the product, from near free to several hundred dollars or more.  If you dig you will find out that the cost is primarily related to whether you have a service contract or not. If you get a free or near free device, you will be signing up for some service term. RemoteDash will beat anybody's deal that is offering a certified product. Call or email us and we will match or beat it.
I hope this helped you out a little bit. Safe Driving.