MyTrips is a vacation documentation and social media application developed from the RemoteDash cloud tools that service all of our standard applications. At the moment it's a Beta development project that we are making public to gather interest and feedback, and to let the public know about all the cool new technologies we are developing and integrating. Like all of our product and services, it is easy to begin using myTrips simply by installing a RemoteDash tracker in your vehicle. We are plugging a tracker into our President's truck next week as he begins his annual summer trip to Montana to visit family. You can login to this public trip at mytrips.remotedash.com to see what we are up to. Imagine your family or personal travels being documented forever in the same way. It's a fun thing, and very simple and easy to use.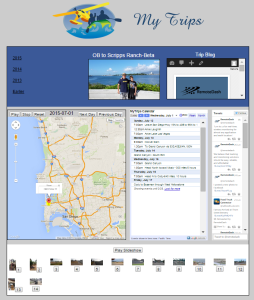 So what does the myTrips application have? It has all the features that come standard with our RemoteDash trackers including real-time mapping, historic play-back, photo geotagging, mileage recording, and so on, but formatted in a way that makes it fun and useful for documenting family vacations and other travel. The myTrips application integrates blogs, twitter feeds, and google calendar to make a complete suite of social media applications. This data is integrated into our RemoteDash maps, tracking utilities and other applications for a completely new vacation experience. We are excited to go on vacations and trips just to use it!
We would like your feedback and comments so we can better tailor myTrips to you. The site at myTrips.remotedash.com is public now (just click on the myTrips home page image above) as it records our travels around San Diego. Our President's trip from San Diego to Montana will begin on July 12. Follow us on this journey. See you at mytrips.remotedash.com!